110 Volt: This is our basic service designed for small business. This level provides a consistent presence on social media and is a great companion for other internal marketing strategies such as direct mail, referral campaigns, web site search engine optimization and others. While multiple platforms are available, one platform is normally chosen and focused upon.

220 Volt: This level is for the business or organization that wants to create a vibrant presence on one or more platforms at the same time. This level provides twice the number of posts and greater variety of the types of posts (pictures, videos, etc.) and is designed for those businesses or organizations which want to dominate their competition in the world of social media.

600 Volt TRANSFORMER: This is the ultimate level of service and is designed to create a loyal fan base which looks to that business or organization for content and solutions. With a broad range of options for multiple platforms along with more intense original content capabilities, such as blogs or articles, this option is perfect for the business or organization looking to transform their market!

Look below to see the price and how each level compares!
Powered by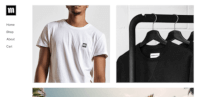 Create your own unique website with customizable templates.